5 TIPS ON INVESTING IN YOUR CAREER + SIDE HUSTLE | MY FIRST CREATE & CULTIVATE EXPERIENCE
FIRST THINGS FIRST
HEY LIFEONAMAT FAM! I'M BACK THIS WEEK FOR A NEW UPDATE, I'VE BEEN PRETTY BUSY WORKING ON MY CRAFT + TRYING TO STAY AFLOAT AT WORK + NETWORKING! BUT I LOVE WHERE THINGS ARE GOING, BUSY IS NEVER BAD AS LONG AS YOU KEEP A GOOD PERSPECTIVE. IF THERE'S ONE THING I'VE LEARNED THIS YEAR, IT'S FINDING THE TIME / FUNDS / RESOURCES TO INVEST IN YOURSELF AND YOUR CAREER. IT'S ESSENTIAL TO ANY GROWING BUSINESS OR PROFESSIONAL. FOR ME, I TRY TO APPLY WHAT I LEARNED TO BOTH MY CAREER AND MY HUSTLE. IN FACT, ANYTHING THAT YOU LEARN, YOU MUST ALWAYS APPLY IT TO ALL ASPECTS OF YOUR LIFE. THAT WAS THE METHOD USED BY MICHAELANGELO, THE PAINTER - SCULPTER - ARCHITECT - POET. HENCE HIS MANY TITLES!

THIS YEAR I HAD THE OPPORTUNITY TO ATTEND CREATE & CULTIVATE, A COMMUNITY OF MODERN WOMEN WORKING TO ACHIEVE THEIR CAREER GOALS. C&C SERVES AS A NETWORK AND RESOURCE TO PROVIDE TIPS ON A RANGE OF TOPICS SUCH AS BRANDING, MARKETING, FINANCE, START UPS, ENTREPRENEURSHIP, ETC. IT'S A VERY VALUABLE EXPERIENCE FOR ME SINCE I'VE BEEN IN THE PROFESSIONAL WORKFORCE FOR THE LAST 8 YEARS AND STARTING MY YOGA BIZ 2 YEARS AGO. IN THIS POST, I'M SHARING WHAT I LEARNED AT C&C PLUS HOW TO FIND THE MONEY TO INVEST IN YOUR CAREER. SO KEEP READING AND ENJOY THE PHOTO OPPS!
THE BEST PART ABOUT C&C WAS THE ACCESS TO IMPORTANT CAREER ADVICE AND BRANDING STRATEGIES. IN MY CURRENT PROFESSION, I WORK TO MARKET PROGRAMS TO A SPECIFIC AUDIENCE AND SO I WANTED TO COME TO THE CONFERENCE TO LEARN HOW WE COULD EXPAND OUR REACH. I ALSO WANTED TO GAIN EXPOSURE TO INDUSTRY LEADERS AND LEARN HOW THEY GOT THEIR START.

SOME OF THE TOPICS INCLUDED:

THE ART OF NEGOTIATION
THE INS & OUTS OF MONEY MAKING
MENTOR POWER HOUR - WE HAD SMALL INTIMATE GROUP SESSIONS WHERE WE COULD ASK QUESTIONS AND GAIN TIPS FROM INDUSTRY LEADERS
OFFICE CULTURE
WOMEN WHO HAVE MOVED PAST THE GLASS CEILING
MY 5 TIPS ON INVESTING IN CAREER + HUSTLE
WRITE A PROPOSAL TO YOUR BOSS, ASK HIM OR HER TO SEND YOU. BEFORE YOU GO FOR IT, YOU NEED TO FIND OUT IF YOUR COMPANY / ORG HAS FUNDS SET ASIDE FOR EMPLOYEE DEVELOPMENT. YOU MIGHT BE SURPRISED! A PROPOSAL SHOULD:

BE CLEAR IN WHAT YOUR ASKING FOR

EXPLAIN WHY IT APPLIES TO YOUR POSITION

EXPLAIN HOW IT CAN HELP THE TEAM

STATE THE COST + HOW MUCH TIME OFF IS NEEDED


RESEARCH AND PREPARE. GO TO INSTAGRAM OR PAST EVENT PAGES TO FIND OUT WHAT KIND OF AUDIENCE YOU WILL BE AMONGST WHEN ATTENDING A WORKSHOP / CONFERENCE. PAY ATTENTION TO ATTIRE, THE SUBJECT MATTER, AND WHO THE SPEAKERS ARE.


KNOW WHAT INFORMATION YOU WANT TO BRING HOME. FIGURE OUT WHAT IS A CROSSOVER TOPIC FOR BOTH YOUR CAREER + HUSTLE. MAKE IT A WIN-WIN!


BRING BUSINESS CARDS. HAVE ANSWERS READY FOR QUESTIONS LIKE "WHAT DO YOU DO?" AND "WHAT'S YOUR PASSION?"


IMMEDIATLY EMAIL YOUR CONTACTS THAT YOU CONNECTED WITH POST-CONFERENCE! WRITE A REPORT FOR WORK, EVEN IF THEY DON'T ASK FOR IT. YOU WANT TO SEND A MESSAGE THAT YOU GAINED VALUABLE INFORMATION AND PLAY IT TO YOUR POSITION. THIS WILL GIVE YOU POINTS AT WORK AND IN YOUR BUSINESS. IF YOU HAVE A WEBSITE, CLIENT, OR EMPLOYEE, USE THE INFO TO YOUR ADVANTAGE. CONSIDER YOURSELF THE RESOURCE!
#WEWORK HAPPY HOUR
THIS IS A GREAT ICEBREAKER FOR ANYONE GOING SOLO! I ATTENDED THE HH IN HOPES OF MEETING OTHER WOMEN AND I MADE A FEW NEW FRIENDS! UBER IS ABOUT $4 IF YOU'RE STAYING IN THE CITY AND IT'S WORTH THE DRIVE FOR ANYONE COMING FURTHER OUT. THE FOOD WAS DELICIOUS! THEY PROVIDED SOME YUMMY COCKTAILS, VERY FILLING SNACKS, AND ICE CREAM DESSERTS! I GRABBED A CANVAS BAG AND SOME KOMBUCHA TOO!
KEYNOTE SPEAKERS: JHUD & SHAY!
JENNIFER HUDSON WAS AMAZING! I LOVE HER PERSONALITY AND ABILITY TO LOOK PAST THE NEGATIVE EXPERIENCES SHE'S ENDURED. THE ADVICE THAT SHE GAVE TO US WAS THAT WE SHOULD ALWAYS STRIVE TO MOVE PAST OUR SETBACKS. SHE EMPHASIZED THE IMPORTANCE OF STAYING HUMBLE AND SHOWING THROUGH ACTION VERSUS WORDS. THAT IS SO KEY WHEN WE PURSUE OUR PASSIONS. SHE HAS A KNACK FOR BRINGING HUMOR INTO HER LIFE AND ALWAYS LOOKS ON THE BRIGHTER SIDE. I ALSO WANT TO ADD THAT MICHELLE LEE IS A GREAT INTERVIEWER! I'VE WATCHED HER FOR YEARS AND HER ABILITY TO CARRY A NATURAL CONVERSATION IS HER CALLING.
SHAY MITCHELL WAS TRULY INSPIRING AND REFRESHING! I REALLY LOVE HER CARE-FREE VIBES AND HER ABILITY TO VENTURE BEYOND EXPECTATIONS. WHEN SHE STARTED HER YOUTUBE CHANNEL, PEOPLE QUESTIONED HER MOVE BUT SHAY EXPRESSED THE IMPORTANCE OF TRYING NEW THINGS. SHE TALKED ABOUT HAVING THE CONFIDENCE TO TAKE RISKS AND TO STOP CARING TOO MUCH ABOUT THE OPINIONS OF OTHER PEOPLE. I LOVE THAT ABOUT HER! IT APPLIES TO SO MANY WOMEN IN THE WORKPLACE AS WELL. WE TEND TO OVERTHINK AND SECOND GUESS, BUT THE SECRET IS TO JUST START YOUR ENDEAVOR!
I MADE TWO NEW C&C FRIENDS, MORGAN AND DESTINEE! THEY WERE SO FUN AND HILARIOUS! WE ALL DECIDED TO HAVE LUNCH TOGETHER AND WE TRADED TIPS ON EDITING APPS AND SHARED ADVICE ON HOW TO KEEP GROWING OUR BUSINESSES. THERE WERE SO MANY DELICIOUS TREATS AND GIVEAWAYS! HEALTH-ADE KOMBUCHA AND LA CROIX BEVERAGES, OLLY VITAMINS, HARVEST JUICERY DRINKS, OUI BY YOPLAIT YOGURT GLASS POTS, RXBAR BITES, SWEETGREEN SALADS, AND MCDONALDS FRENCH FRIES! I HAD A BLAST JUST TRYING ALL THE HEALTHY (AND SOME INDULGENT) TREATS!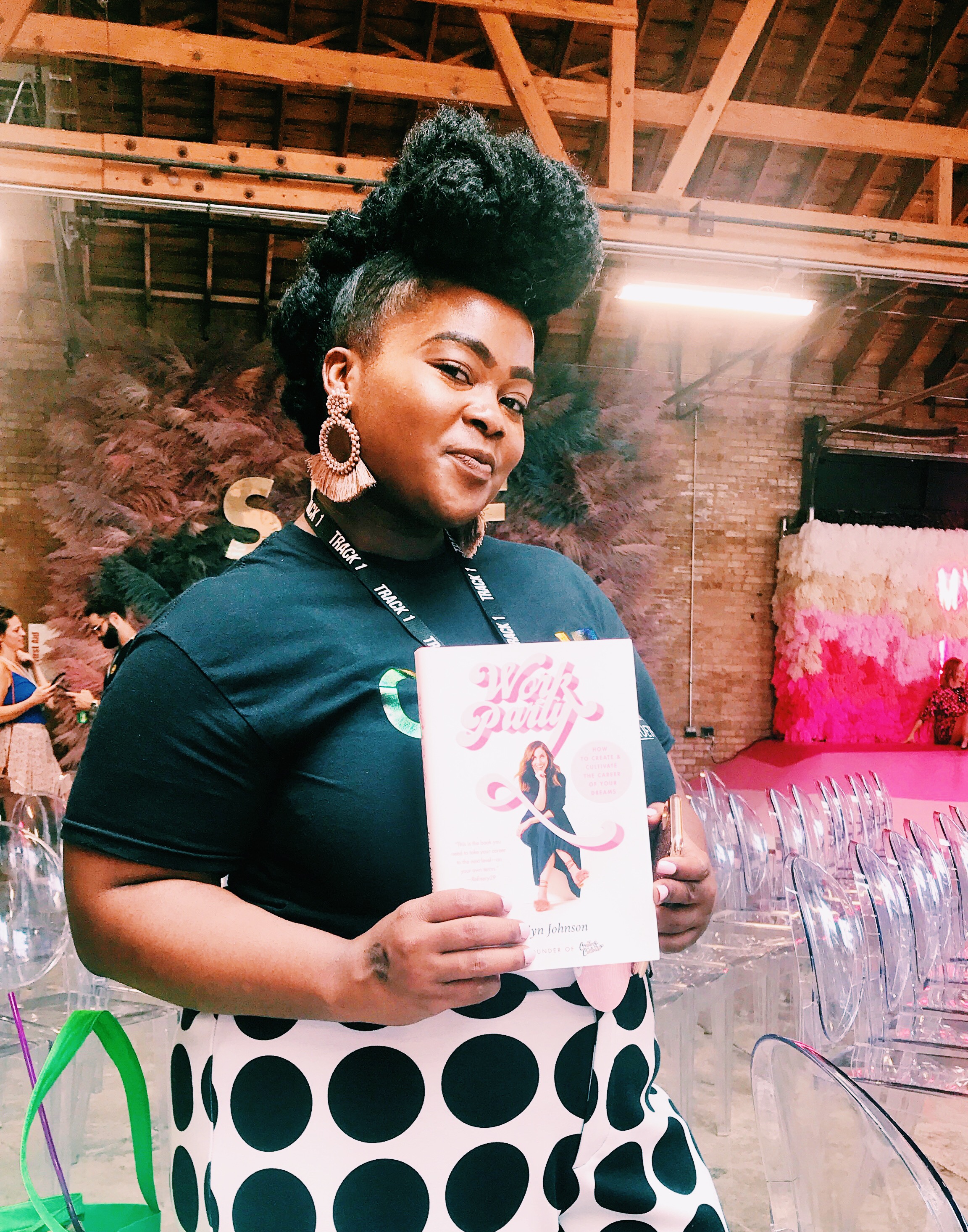 DESTINEE, THE ORGANIC HUE
THINGS REMEMBERED

ON NEGOTIATION
KNOW WHAT YOU WANT. WHAT IS YOUR VALUE?

THERE IS POWER IN SAYING NO. HOLD YOUR MORALS.

FIND AN ADVOCATE, ALIGN YOUR INTERESTS.

PRACTICE BEFORE GOING IN. IT HELPS TO HEAR YOUR OWN VOICE.

PROVE WHY YOU DESERVE MORE MONDY. COME TO THE TABLE WITH WHAT YOU'VE DONE TO INCREASE YOUR VALUE.
ON BUILDING A STRONG BRAND
TEST & LEARN POLICY: TRYING SOMETHING YOU'VE NEVER DONE TO SEE IF YOU CAN LEARN FROM IT AND GAIN A NEW SKILL

STICK TO YOUR BRAND FOCUS, FIND OUT WHAT YOUR CONSUMER NEEDS.

STAY TRUE TO THE BRAND STORY.

WHAT'S IN YOUR PRODUCT THAT SETS YOU APART? FIND OUT WHAT INSPIRES THE CONSUMER. LISTEN TO THEIR FEEDBACK.

HAVE A VERY CLEAR VISUAL IDENTITY. CREATE YOUR AESTHETIC.
ON DOLLARS & SENSE
TIER YOUR SERVICES WHEN WORKING WITH DIFFERENT CLIENTS. IN OTHER WORDS, USE A PRICE BRACKET TO CATER TO MORE THAN ONE CONSUMER TYPE.

YOU GET IN LIFE WHAT YOU HAVE THE COURAGE TO ASK FOR!

SOMETIMES WE SIMPLY THING THAT WE WILL BE RECOGNIZED IN THE WORKPLACE, BUT YOU HAVE TO SPEAK UP AND ASK!

OUTSOURCE TO MAKE THINGS EASIER.
ADVICE FROM MARIANA HEWITT
YOU CAN BUILD A BRAND IF YOU HAVE AN ONLINE FOLLOWING.

STAY CONNECTED WITH YOUR CUSTOMER.

FACE TO FACE COMMUNICATION IS REALLY IMPORTANT.

WHEN YOUR CLIENT WORKS WITH YOU, IT SHOULD BE AN ONLINE VERSION OF WHAT THEY SAW ONLINE.
THE SPONSORS WERE RIDICULOUSLY AWESOME! THE SWAG BAGS WERE THE BEST! I HAD TO CHECK MY LUGGAGE IN JUST TO GET IT ALL HOME LOL. THEY GAVE US SO MUCH PRODUCT, I'VE GOT ENOUGH TO LAST ME THE REST OF THE YEAR! FULL SIZE HAIR SPRAYS AND LOTION, TRAVEL SIZE SHAMPOO AND CONDITIONERS, WE RECEIVED EVERYTHING FROM RAZORS TO VITAMINS, THERE WERE LIP STAINS TO BODY SCRUBS TO MASCARAS. IT WAS WORTH THE $350 REGISTRATION FEE IN MY OPINION.

THROUGHOUT THE EVENT, YOU HAVE SO MANY PHOTO OPPS AND BEAUTY STATIONS TO VISIT! IN BETWEEN THE SPEAKER PANELS, I GOT TO CHECK OUT MARY KAY, JC PENNY BIOSSANCE, SHOPSTYLE, BIG SEXY HAIR, OLLY, HEALTH-ADE, NORDSTROM BEAUTY, AND LIVING PROOF! YOU COULD ALSO GET YOUR HAIR BRAIDED, RECEIVE A BEAUTY TOUCH UP, TRY ON OUTFITS, RECEIVE A TAROT READING, AND TAKE CUTE SELFIES!

I HAD MY VERY OWN CUSTOMIZED OFFICE TENT MADE AT THE HEALTH-ADE BOOTH AND NOW I DISPLAY IT AT WORK!

C&C 2019
ALL IN ALL, THE EXPERIENCE WAS GREAT! I LEARNED SO MUCH FROM OTHER INSPIRING LADIES AND ENTREPRENEURS. I WOULD DEFINITELY GO BACK AGAIN FOR MORE ADVENTURES :) IF YOU WANT TO HIT UP THE NEXT C&C EVENT, MIAMI IS THE NEXT SPOT HOSTING THE VISION SUMMIT THIS DECEMBER! CHECK IT OUT!

IF YOU HAVE ANY QUESTIONS OR WANT TO CONNECT AS FELLOW C&C FAM, COMMENT BELOW!
TOP: REBELLIOUS FASHION
PANTS: URBAN OUTFITTERS
CHI TOWN ADVENTURES
ON MY LAST DAY, I MADE IT A FERRIS BUELLER KIND OF DAY AND WENT TO THE MUSEUM. I WAS IN AWE OVER THE ARCHITECTURE AT THE ART INSTITUTE OF CHICAGO! IT'S DEFINITELY A BUCKET LIST ITEM IF YOU'RE IN THE CITY. YOU ALSO HAVE TO GET TO ELEVEN CITY DINER FOR THEIR FRENCH TOAST! AH, SO YUMMY!