ASIAN PACIFIC AMERICAN HERITAGE MONTH: LET'S TALK CULTURE ON MY NEW SOUNDCLOUD!
WOMAN WITH A VOICE
IN CELEBRATION OF ASIAN PACIFIC AMERICAN HERITAGE MONTH (APAHM), I WANTED TO TALK ABOUT MY EXPERIENCES AND MAKE A LITTLE ANNOUNCEMENT! I'M SO GRATEFUL THAT THE INTERNET HAS BEEN ABUZZ ALL MONTH WITH DIALOGUE ABOUT WHAT IT MEANS TO BE ASIAN AMERICAN. I'M GLAD TO TAKE PART IN THE DISCUSSION, TO SHARE MY THOUGHTS AND ADD TO THIS TOPIC IN HOPES THAT IT WILL NOT ONLY IMPROVE OUR INTERACTIONS WITH ONE ANOTHER, BUT TO HELP OTHERS FIND THEIR UNIQUE IDENTITY. SO I'LL TELL YOU ABOUT MY FORMATIVE YEARS.
YOU KNOW, FOR A LARGE PART OF MY LIFE, I FELT LIKE I HAD TO BITE MY LIP ON TOPICS THAT WERE CONTROVERSIAL AND SENSITIVE. OFTEN TIMES, I WOULD OVERHEAR DISCUSSIONS ABOUT RACE, INEQUALITY, AND STEREOTYPES. QUIETLY, I'D TUNE IN AND LISTEN FROM A DISTANCE. BY DOING THIS, I WOULD GAIN INSIGHT FROM SO MANY PERSPECTIVES, ESPECIALLY FROM THOSE WHO COULD NEVER UNDERSTAND WHAT WAS LIKE TO COME FROM A MULTI-ETHNIC FAMILY.
I WAS LIKE A GHOST, BECAUSE I COULD HEAR THESE UGLY OPINIONS THAT PEOPLE WOULD UTTER WITHOUT ANY FEAR OF CONSEQUENCE. AND BECAUSE THEY DIDN'T KNOW MY ETHNIC BACKGROUND, THE MORE COMFORTABLE THEY FELT TO EXPRESS THEMSELVES. ONE COULD SAY THAT I WAS A SHEEP IN THESE SITUATIONS, BUT REALLY I MIGHT HAVE BEEN MORE WOLF. LET ME EXPLAIN.
I'VE SPENT 28 YEARS STUDYING MICRO-AGGRESSIONS, SUBTLE STATEMENTS, THE BEHAVIORS THAT POINT TO ENTITLEMENT. I'VE SWUNG ON THAT SPECTRUM BETWEEN BOTH SIDES OF MY HERITAGE, WONDERING WHICH GROUP WOULD ACCEPT ME OR WHERE I COULD FIND SOLACE TO BE ME. BEING IN THE SHADOWS OF AMBIGUITY, I LEARNED TO CLOSELY OBSERVE, LIKE LOOKING BOTH WAYS BEFORE CROSSING THE STREET. THE SOCIAL CONSTRUCTS IN AMERICA ARE COMPLEX. IT PUT ME IN A BUBBLE THAT HAS, IN THE PAST, CAUSED ME TO FEEL SELF-CRITICAL FOR SO LONG, LIKE I HAD TO ASK FOR PERMISSION TO BE MYSELF. BUT IN MY SILENCE, I LEARNED A LOT.
IN OTHER WORDS, I GOT ALL THE TEA GROWING UP.
BUT THE FUNNY THING WAS THAT THE REJECTION I FELT WAS MORE INDIRECT. I REMEMBER ONE TIME HANGING OUT WITH A FRIEND OF MINE, HE WAS FROM GHANA. HE INVITED SOME OTHER PEOPLE AND ONE OF THE ASIAN GIRLS ASKED ME ABOUT MY ETHNICITY. WHEN I REPLIED, SHE SAID, "OH, BUT YOU TURNED OUT PRETTY."
INDIRECT REJECTION. A ONE-DIMENSIONAL THOUGHT. HAVING BEAUTY WAS LIKE A TICKET INTO ACCEPTANCE. SUPERFICIAL NONETHELESS. I'M ONLY PRETTY BECAUSE I HAVE ASIAN GENES? THAT STATEMENT AFFECTED ME FOR A LONG TIME. I DIDN'T KNOW THAT REJECTION COULD BE COMPARTMENTALIZED AND USED FOR FRACTIONS OF ONE'S CHARACTERISTICS AND NOT THEIR WHOLE BEING.
IT'S A COMPLEX EMOTION, LET ME TELL YOU, TO STEP INTO ONE PLACE AND RECEIVE PRIVILEGE AND THEN TO STEP INTO ANOTHER AND GET DOGGED FOR THE VERY SAME QUALITIES. IT'S CONFUSING.
BUT IF THERE'S ONE THING I'VE COME TO FIND, IT'S THIS:
IT'S NOT TRUE PRAISE IF YOU CAN'T ACCEPT ALL OF ME.
BEING PART PACIFIC ISLANDER AND PART AFRICAN AMERICAN, I TRULY UNDERSTAND THE INTERSECTION BETWEEN CULTURES. AND I ALSO FELT THE PAIN THAT MY PARENTS ENDURED. GROWING UP MULTIRACIAL WAS A STRUGGLE. YEAR AFTER YEAR, I BEGAN TO SENSE THIS ABNORMALITY WITHIN MY OWN SKIN. I SORT OF DEVELOPED A DEFENSE MECHANISM TO THE CRITICISM. I DECIDED TO CLOSE THE CURTAIN ON THE FREAK SHOW BY SHYING AWAY FROM DISCUSSION ABOUT MY HERITAGE. I DIDN'T WANT TO REVEAL VERY MUCH INFORMATION ABOUT MYSELF. BUT DOING THIS CAME AT A COST, BECAUSE YOU CAN'T REALLY BE YOURSELF. YET I HAD THIS FRONT ROW SEAT TO PEOPLE'S TRUE FEELINGS AND THOUGHTS. I WAS LIVING IN POLARITY.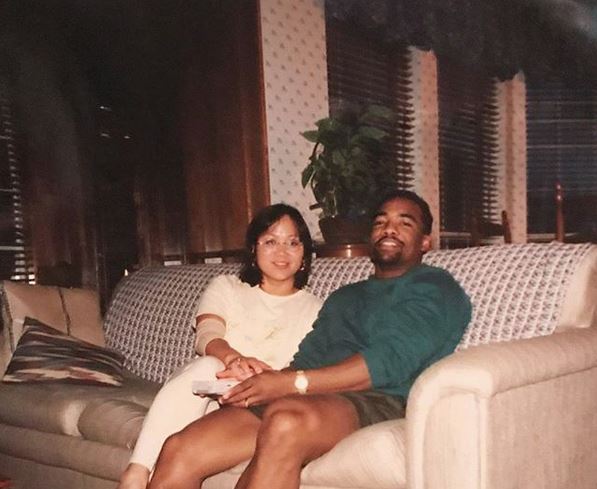 HAVING DARK SKIN, AMBIGUOUS FEATURES, STRAIGHT / WAVY HAIR DEPENDING ON THE MOOD, AND THE WHY-DO-YOU-SOUND-WHITE ACCENT, YEA IT WAS TOO MUCH FOR SOME PEOPLE. LIKE, OH NO! WHAT WILL WE DO? WE CAN'T CATEGORIZE HER!
AT HOME, I COULD ENJOY MY MOM'S FILIPINO COOKING SPEND TIME LISTENING TO VINYL AND RECORDS FROM THE 70'S. MARVIN GAYE WAS MY FAVORITE. BUT OUTSIDE MY HOME, IT WAS A DIFFERENT STORY. I WAS ALWAYS QUESTIONED ABOUT MY ETHNIC BACKGROUND. AFTER A WHILE, YOU START TO FEEL INFERIOR IN MANY SPACES AS AN ADOLESCENT. YOU START HAVING ANXIETY GOING TO CERTAIN PLACES. YOU BEGIN TO HIDE CERTAIN ASPECTS OF YOUR LIFE. AND WHEN PEOPLE SAY, WHY CAN'T YOU JUST ACCEPT YOURSELF, IT'S THE MOST LOADED QUESTION THAT INFURIATES YOU.

THEN THERE'S THIS THING CALLED NON-VERBAL COMMUNICATION....AND TONE. TONE MATTERS.
WHEN PEOPLE WOULD PRY, IT FELT LIKE AN INTERROGATION, A NEGATIVE VIBE. IT WAS LIKE:
"HEY WHAT ARE YOU?"
"WHY IS YOUR HAIR LIKE THAT?"
"WHY ARE YOU SO DARK?"
ALL THE QUESTIONS IMPLIED SOMETHING NEGATIVE. I WASN'T SEEN AS AN INDIVIDUAL, I WAS SEEN AS UNNATURAL. AND DON'T EVEN GET ME STARTED ON MY DATING LIFE!
BY THE TIME I WAS ABOUT 22 OR SO, THINGS BEGAN TO CHANGE. IT WAS LIKE BEING MIXED WAS THE THING TO DO. ALL THE HIGH SCHOOL KIDS THAT USED TO MAKE FUN, WERE NOW EXPLORING OUTSIDE THEIR COMFORT ZONE. CELEBRITY COUPLES MADE IT COOL. SUDDENLY, IT WAS "IN" TO BE MIXED. BUT I WAS STILL FEELING SOME TYPE OF WAY. THE HEALING PROCESS HAD NOT BEGUN. I NEEDED TIME TO PROCESS THIS NEW MENTALITY.
I BELIEVE THAT WHEN WE HAVE THESE SCARS FROM THE HURTFUL WORDS AND ENERGY WE INTERNALIZE, WE NEED TIME TO UNPACK THOSE EMOTIONS. WE NEED TIME TO RE-BUILD PARTS OF OURSELVES THAT WERE LOST IN the FIRE OF IGNORANCE.
DIALOGUE CREATES PROGRESS
HERE I AM TODAY, A YEAR AND A HALF INTO LIFEONAMAT.COM AND FINALLY OPENING THE DOOR TO A TOPIC THAT IS DIFFICULT AND SPECIAL AND CONTROVERSIAL.
THESE EXPERIENCES AFFECTED ME, BUT THEY DIDN'T BREAK ME. IN MANY WAYS, WHAT I WENT THROUGH HELPED ME BECOME MUCH MORE LOYAL TO MY SPIRIT AND MIND. I FOUND A DEEPER SENSE OF SELF-LOVE. I'M READY TO TALK ABOUT MY JOURNEY AND TRUTH. SO I DECIDED TO CREATE A DIALOGUE PROJECT TO TOUCH ON MY EXPERIENCES AS A MULTI-ETHNIC WOMAN, HENCE THE NAME SWIRLYBAE RADIO. I WANT TO CREATE A SPACE WHERE OTHERS CAN RELATE, TO SHED LIGHT ON THE MOVERS & SHAKERS WHO WORK TO IMPROVE RACE RELATIONS. I WANT TO BUILD A COMMUNITY FOR THOSE THAT FEEL MARGINALIZED OR CATEGORIZED.
SO JOIN IN, LISTEN TO MY CLOUD FROM TIME TO TIME. I'LL BE POSTING STORIES AND EXPERIENCES, ALL THE NUANCES AND DETAILS THAT ONE ENDURES AS A BI-CULTURAL INDIVIDUAL. FOR YOUR MORNING DRIVE TO WORK, I'LL ALSO READ ARTICLES THAT CLARIFY OUR VIEWS ABOUT THE HISTORY OF RACISM AND CULTURE, FROM WRITERS AND STRONG WOMEN WHO MAKE A DIFFERENCE. I'VE FOUND MY VOICE THIS YEAR AND I'M GOING FOR IT.
#INSPIRED,
JASMINE