YOGA PRACTICE MEETS FITNESS ROUTINE | THE BLEACHER WORKOUT
ON THE SIDELINE
SO OFTEN WE ARE CONDITIONED TO BELIEVE THAT WE ARE POWERLESS, THAT WE CANNOT REACH OUR GREATEST DREAMS, THAT WE MUST PUT OURSELVES ON THE BACK BURNER. WE WAIT TO ASK FOR MORE, WE WAIT OUR TURNS, WE WAIT UNTIL THE NEW YEAR. WE CONDITION OURSELVES TO THINK FROM THE SIDELINES AND NOT FROM THE GAME.

I BELIEVE THAT THE BODY IN A RUT WILL CAUSE THE BRAIN TO GO WITH IT. WE FORGET THAT OUR BODIES ARE BUILT TO MOVE / CREATE / ACHEVE. IN THE SAME WAY A GAME IS WON, WE TOO, MUST ACT AND BECOME THE ELEMENTS OF OUR OWN SUCESS: THE COACH, THE PLAYER, AND THE REF.

THE COACH IS OUR OWN SELF CONFIDENCE, OUR TO DO LIST, OUR FORTITUDE. IT'S WHAT KEEPS US DISCIPLINED AND STRATEGIC IN OUR APPROACH.

THE PLAYER IS OUR ABILITY TO EXECUTE, OUR SELF MOTIVATION, DRIVE, AND ACTS AS LISTENER. THE MAIN JOB IS TO TAKE ACTION AND GET THE JOB DONE.

THE REF IS THE VOICE THAT TELLS US WHEN WE'VE GONE OUT OF BOUNDS, WHEN WE NEED TO STOP OR SLOW DOWN. IT'S OUR INTERNAL INTUITION TO KEEP US SAFE.

I'VE MENTIONED THESE ASPECTS AS AN ILLUSTRATION OF HOW TO APPROACH HEALTH AND WELLNESS. IF THERE IS A FITNESS GOAL YOU WANT TO ACCOMPLISH, YOU CANNOT SIMPLY GET BY ON JUST ONE OF THESE THREE FACTORS. THE COACH MUST INSTILL DISCIPLINE. THE PLAYER HAS TO STEP UP. THE REF HAS TO MONITOR. YOU HAVE TO OPEN YOUR MIND TO ALL THREE ELEMENTS IN ORDER TO GET YOURSELF TO THE NEXT LEVEL.

AS THE NEW YEAR COMES CLOSER, I WANT TO REMIND MY READERS + FRIENDS THAT WE MUST APPROACH OUR GOALS WITH THE UNDERSTANDING OF THESE THREE PARTS AND HOW TO TAP INTO EACH ONE. WE MUST FIGURE OUT WHERE WE ARE LACKING AND LEARN HOW TO IMPLEMENT CHANGE.

ARE THERE AREAS IN WHICH WE NEED GREATER DISCIPLINE?
ARE THERE MOMENTS WHERE WE NEED TO STEP UP?
ARE THERE TIMES WHEN WE NEED TO MONITOR OURSELVES?

THERE COMES A TIME WHEN WE NEED TO RECOGNIZE THAT CHALLENGE IS ONLY GROWTH. LET'S GIVE OURSELVES JUST 10 SECONDS. IN THOSE SECONDS, I WANT YOU TO SEE THE BEST VERSION OF YOU.

I WANT YOU TO ENVISION NOT JUST THE 2019 VERSION OF YOURSELF, BUT A TIMELESS VERSION OF YOURSELF.

WHAT IS THAT WILL GIVE YOU PEACE + PROSPERITY?
WHAT IS IT THAT WILL CHALLENGE YOU TO BECOME BETTER?

KNOW THAT THIS CYCLE OF CHANGE IS A FOREVER THING. YOUR FIRST EPIPHANY WILL FEEL LIFE CHANGING. BUT THE SECOND ONE SHOWS YOU THAT THE FIRST WAS ONLY THE BEGINNING. THERE WILL BE MOUNTAIN AFTER MOUNTAIN TO CLIMB. ONCE YOU ACCEPT THAT HARD WORK + SWEAT EQUITY IS INEVITABLE, YOU MUST THEN DISCOVER WHAT WILL GIVE YOUR BODY + MIND THE STRENGTH TO CONTINUE TO PURSUE YOUR DREAMS. FOR ME, IT IS YOGA / WELLNESS / FITNESS / FOOD.

TODAY MY YOGA PRACTICE MEETS MY FITNESS ROUTINE. FOLD YOUR MAT HOTDOG STYLE AND JOIN ME! I'M COMBINING CORE STRENGTHERS WITH A FOCUS ON STABILIZATION + PRECISION. CHECK OUT MY BLEACHER WORKOUT BELOW AND TELL ME YOUR THOUGHTS! FOLLOW ME ON INSTA @SWIRLYBAE FOR MORE TIPS AND YOGA INSPO.
START EARLY IN THE MORNING AND START WITH YOUR INTENTION. LET YOUR PALMS FACE UP AND MAKE TIME TO BREATHE.
RECITE THIS MANTRA: I AM ENOUGH.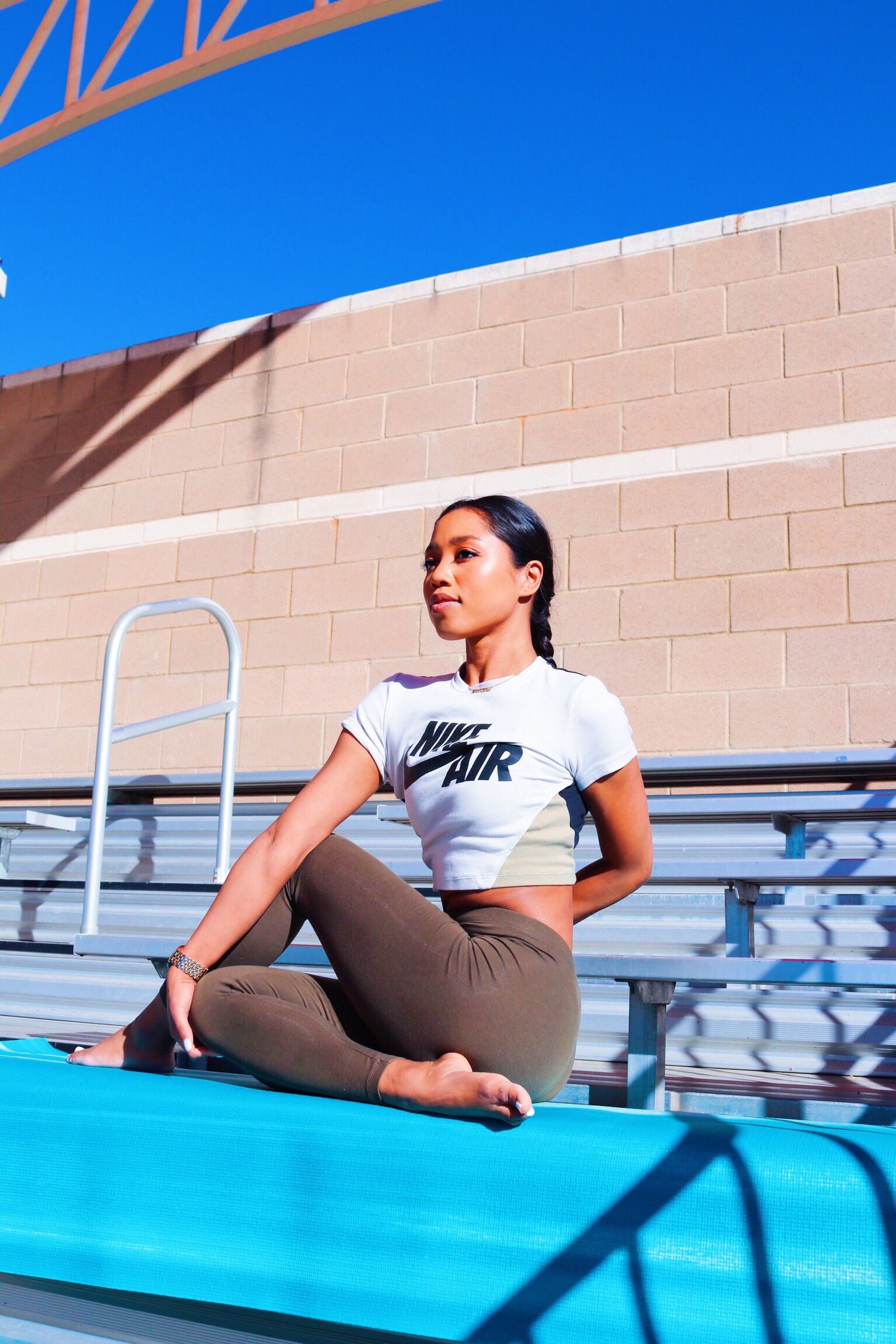 SPINE TWIST + HAMSTRING STRECH
I LOVE TO REDUCE OPPORTUNITIES FOR INJURY BY STARTING SOFT AND SLOW. BEFORE STARTING THE BLEACHER WORKOUT, I BEGIN WITH A SPINE TWIST TO HELP ALLEVIATE AND STRETCH THE VERTEBRAE.

THEN I'LL FOCUS ON MY MOST STUBBORN MUSCLE, THE HAMSTRINGS. I PULL MY UPPER BODY FORWARD, GRABBING THE TOP OF MY SHOES / TOES. I'VE ALWAYS STRUGGLED TO KEEP MY KNEES STRAIGHT. BUT I KEEP WORKING AT IT!
SEATED SIDE STRETCH | 30 SECONDS EACH SIDE
THIS IS A STRETCH THAT HAS A TWO-PRONG PURPOSE. I START ENGAGING MY CORE IN THIS POSE AND CONTINUE MY PRANAYAMA (BREATH WORK) TO HELP EXPAND MY LUNG CAPACITY. IT IS IMPORTANT TO LEARN HOW TO LENGTHEN. I USE BREATH AS A TOOL TO CREATE LONG LEAN LINES AND TO STRETCH MY HAMSTRINGS, HIPS, OBLIQUES, THE LATISSIUMUS DORSI MUSCLE, THROAT, AND EVEN THE FINGER TIPS.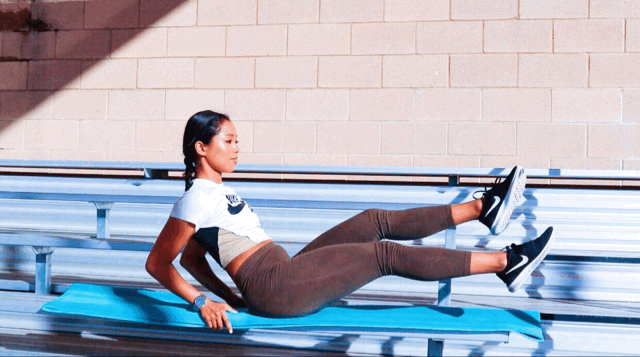 FLUTTER KICKS | 5 SETS, 30 REPS
I LOVE TO DO THESE IN THE GYM! FLUTTER KICKS REALLY WORK THE CORE AND ABDOMINALS. GRAB THE BENCH AS YOU WORK THIS PART OF THE ROUTINE. OR YOU CAN SIT ON YOUR HANDS. ALTERNATE THE FEET UP AND DOWN OR LEFT AND RIGHT.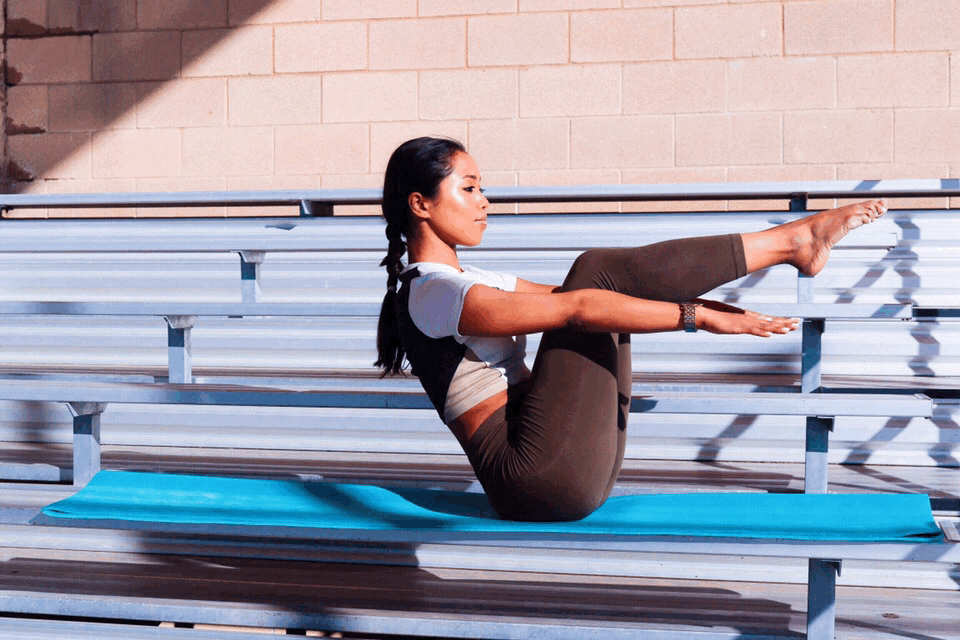 BOAT POSE | 5 SETS, 10 REPS
BOAT KICKS ALSO WORK THE CORE AND ABDOMINALS. ARMS AND CHEST SHOULD BE LIFTED, PALMS DOWN. IT WORKS LIKE A CRUNCH, BRINGING YOUR KNEES TO CHEST. REMEMBER TO KEEP YOUR CHIN UP, TOES POINTED.
KNEE TO NOSE CORE FLOW | 3 SETS, 5 REPS
IN YOGA, I LIKE TO INCORPORATE A KNEE TO NOSE TRANSITION TO THREE LEGGED DOG! HERE, WE ARE WORKING ON BALANCE WITH THE BLEACHERS. SO GRABBING THE BENCH, START IN PLANK, CRUNCH THE KNEE TO NOSE, THEN DRAW THE LEG OUT TO THREE LEGGED DOG POSE. NEXT, YOU'LL CRUNCH YOUR KNEE TO THE LEFT ELBOW, DRAW THE LEG BACK OUT TO THREE LEGGED DOG, THEN CRUNCH IT TO THE RIGHT ELBOW. YOU'LL REPEAT THIS FLOW ON BOTH SIDES OF THE BODY.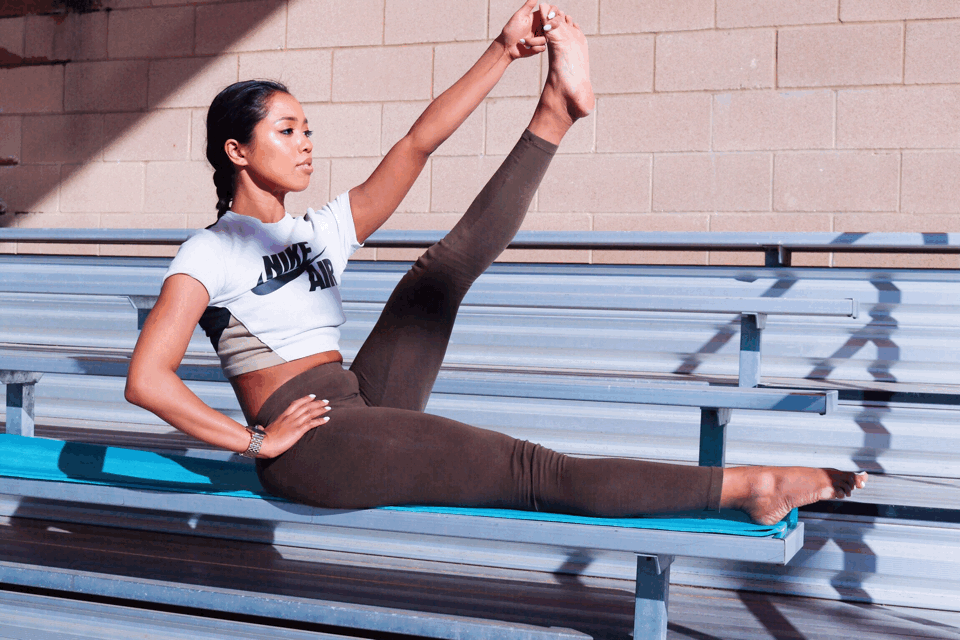 SEATED TOE HOLD | 3 REPS, 10 SECONDS
THIS IS ANOTHER VITAL CORE EXERCISE + STRETCH! I'VE ADDED THIS POSE TO HELP STRETCH THE HAMSTRINGS AND CALVES WHILE STRENGTHENING THE SPINE. IT WILL ESPECIALLY IMPROVE YOUR GROUND BALANCE AND SENSE OF GRAVITY.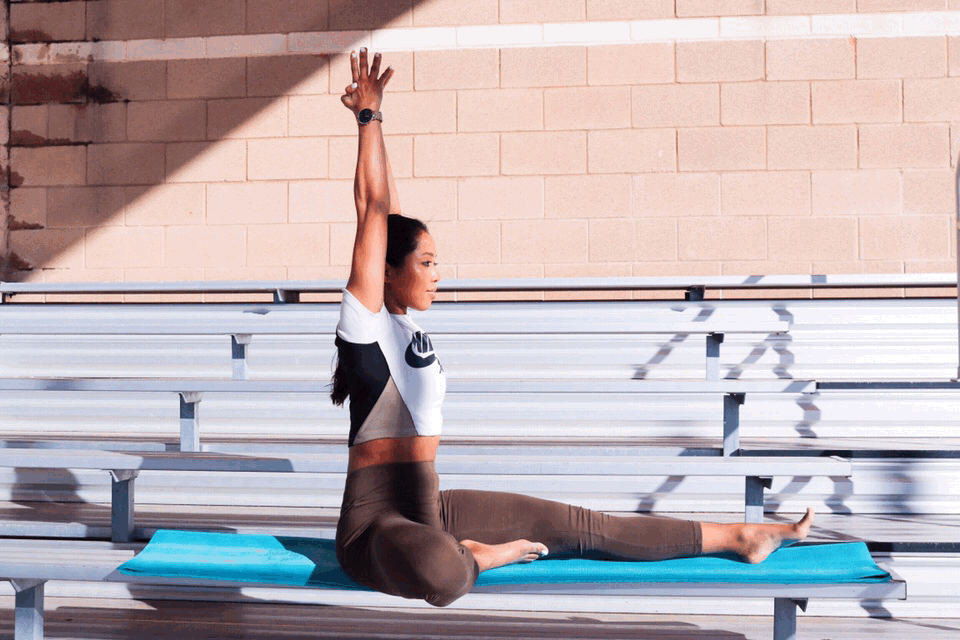 SEATED HEAD TO KNEE | 3 REPS, 10 SECONDS
AS YOU WIND DOWN YOUR WORKOUT, ROUND OUT YOUR SPINE AS YOU DRAW YOUR FOREHEAD TO THE KNEE. AS YOU BREATHE THROUGH THIS LONG STRETCH, WORK ON BRINGING YOUR ELBOWS CLOSER TO THE CALF MUSCLE.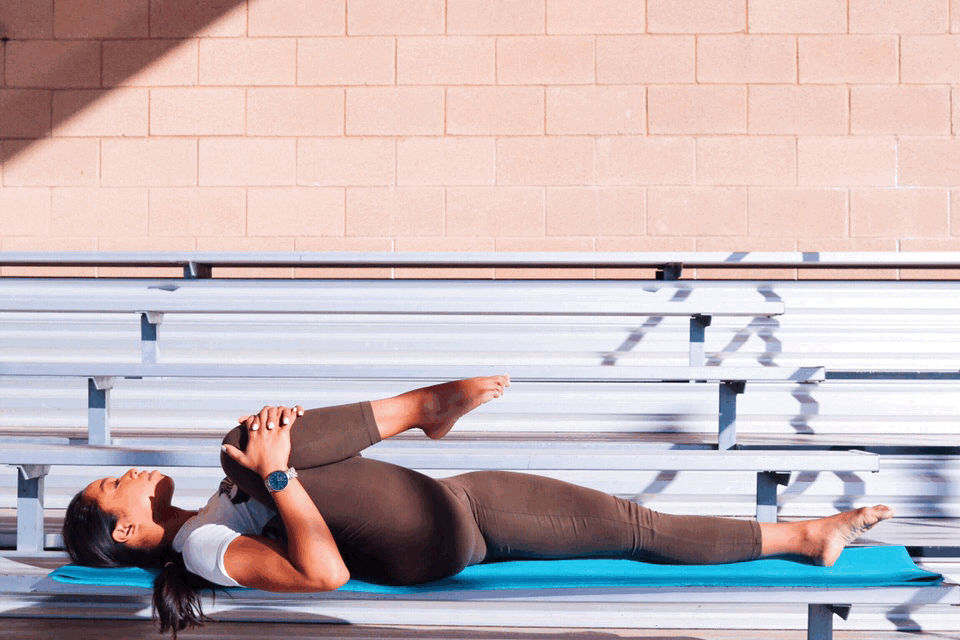 RECLINED KNEE TO CHEST | 3 REPS, 10 SECONDS
LAYING ON YOUR BACK, INTERLACE YOUR FINGERS OVER THE SHIN, PULLING YOUR KNEE TOWARD YOUR CHEST. AVOID THE RIBCAGE IF POSSIBLE, POINTING THE TOE OF THE STRAIGHT LEG.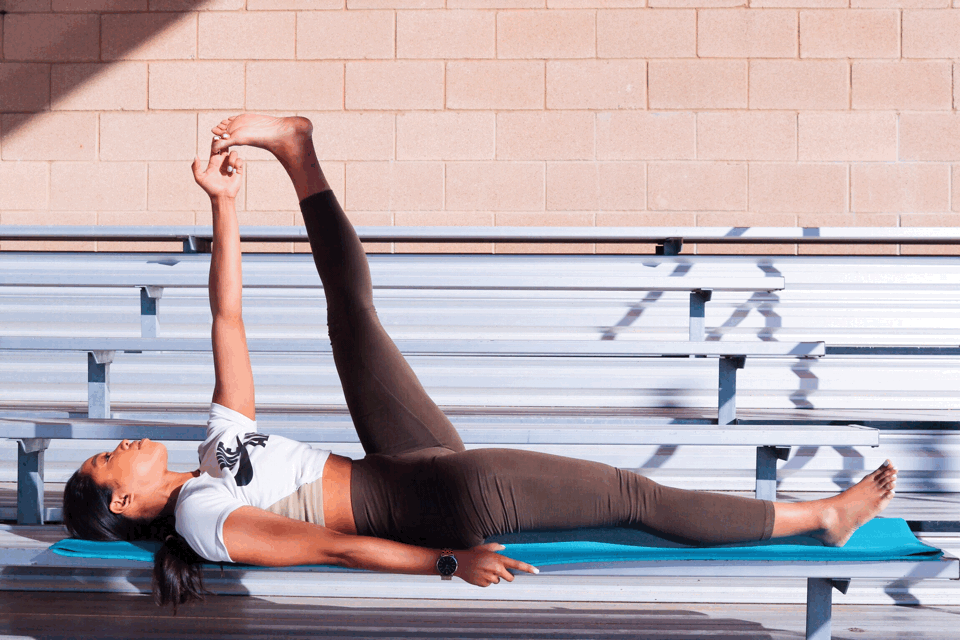 RECLINGING HAND TO BIG TOE | 3 REPS, 10 SECONDS
THIS FINAL STRETCH IS MORE ABOUT SPINAL ALIGNMENT AND THE HIP ABDUCTORS. KEEP THE LAYING LEG + KNEE STRAIGHT. WITH YOUR INDEX AND MIDDLE FINGER, GRAB THE BIG TOE OF THE LIFTED LEG. PULL THE LEG UPWARD TO CREATE A 90° ANGLE. TRY TO ENGAGE THE HIP MUSCLES OF THE LAYING LEG IN THIS POSE TO HELP THEM GET THE FULL STRETCH.
WISHING YOU ALL A HAPPY NEW YEAR!